What is Maersk?
Maersk, officially known as A.P. Møller - Mærsk A/S, is a maritime logistics company based in the capital city of Denmark, Copenhagen. It was the world's largest container shipping company until 2022 when it handed over its top position to MSC.
History of Maersk
A.P. Møller - Mærsk A/S was formed in 2003 through the merger of "Dampskibsselskabet Svendborg" and "Dampskibsselskabet af 1912."
About Dampskibsselskabet Svendborg
This company was established on April 16, 1904, in the town of Svendborg, located on the Danish island of Funen, by A.P. Møller and his father, Peter Mærsk Møller.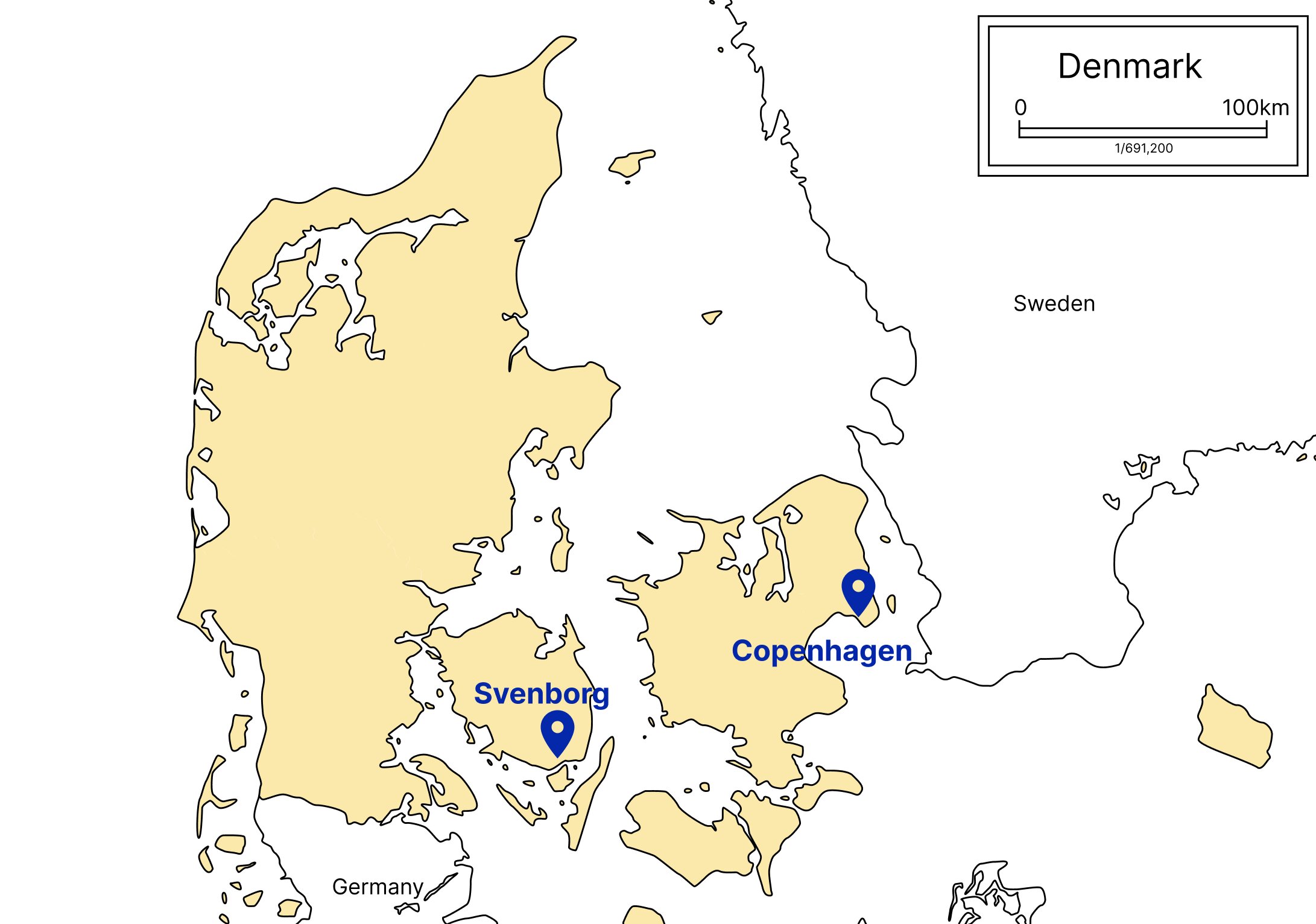 Funen Island is also known as the birthplace of the fairy tale writer Hans Christian Andersen!
Peter Mærsk Møller, the father, spent 20 years as a captain of sailing ships before aspiring to become a steamship captain. At the age of 50, he pursued engineering studies and passed the examinations, achieving his goal. He was dedicated to educating his sons, with one becoming a navigator and two becoming engineers. His son who learned the shipping business was A.P. Møller.
The steamship company they founded together, along with Peter Mærsk Møller's son A.P. Møller, was named Dampskibsselskabet Svendborg. However, the company's board of directors at that time was hesitant about expanding the steamship business, which clashed with A.P. Møller's desire for significant growth. As a result, A.P. Møller decided to start another steamship company on his own, known as Dampskibsselskabet af 1912.
About Dampskibsselskabet af 1912
Two years after its establishment in 1912, World War I broke out. Since Denmark declared neutrality during the war, it was not affected as severely as the German shipping company Hapag-Lloyd, which lost many vessels. This neutrality acted as a tailwind for the Danish shipping industry. (For more information on Hapag-Lloyd's history, click here
Indeed, even though A.P. Møller started his own company after parting ways with his father's business, the connection between them continued to exist. There are preserved letters on the official website that A.P. Møller wrote to his father.
It is an old idea of mine, one day to set up a yard, build ships using our companies' shipping experience … I think I can manage to get it going myself and, being realistic, I do not think it would be such a misfortune if most of what has been earned during the war was lost on such a venture, as long as some good comes of it.

A.P. Møller in a letter to his father, 1917
The source of the quote: MAERSK Official Site Consolidation — 1913-1940
Following those letters, A.P. Møller established a shipyard in 1918, and the company continued to thrive. In 1919, Maersk established its first overseas office in New York, and in 1928, it commenced regular shipping operations, rapidly expanding its business.
About ten years later, in 1939, Germany invaded Poland, marking the beginning of World War II, which dealt a significant blow to Maersk. On April 9, 1940, Germany occupied Denmark. The Maersk fleet, which consisted of 46 ships at the time, was reduced to 21 ships by the end of the war. However, they managed to resume services after the war and restored their pre-war tonnage within just three years.
A.P. Møller passed away in 1965.
While the world witnessed the first container in 1956, it was in the late 1960s when the development of standardized containers advanced. Unfortunately, A.P. Møller didn't live to see the current world trade shaped by containers. Nonetheless, he laid the foundation for Maersk's businesses, including shipbuilding, tanker transportation, and the oil industry.
Maersk entered the container business in 1975, and through various corporate acquisitions, it grew to become the world's largest container shipping company.
The Birth of the World's Largest Container Shipping Company
Before Maersk became the world's largest container shipping company, it underwent several corporate acquisitions and integrations. Let's mention some of the notable ones.
In 1979
Maersk acquired Svitzer, strengthening its presence in the port and terminal operations.
In 1993
Maersk purchased the liner division of EAC-Ben Container Line.
In 1999
Maersk acquired the container business division of Safmarine.
Maersk acquired Sea-Land Service.
In 2005
Maersk acquired P&O Nedlloyd, the third-largest company in the industry.
In 2017
Maersk acquired Hamburg Süd, the seventh-largest company in the industry.
n 2003, the company changed its name to the current one and intensified its efforts in acquiring container shipping companies and developing terminal infrastructure. It also made significant contributions to the maritime industry, including the delivery of some of the world's largest container ships, further bolstering its position.
As mentioned earlier, MSC took the top position in 2022, but let's now look at the changes in market share since 2020.
The following chart summarizes the scale of Maersk and other shipping companies, along with their alliances, as of the end of 2020 and 2021: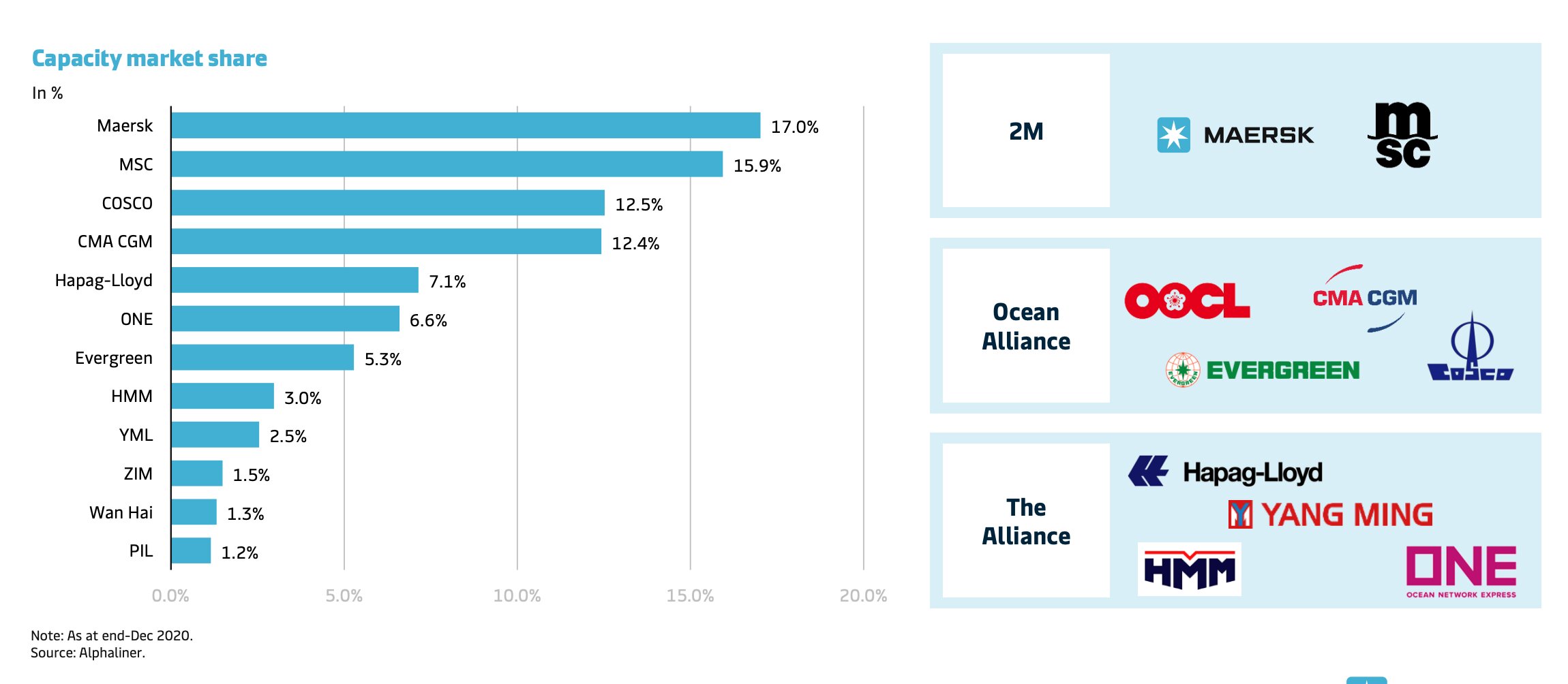 Source: Maersk Annual Report 2020 p37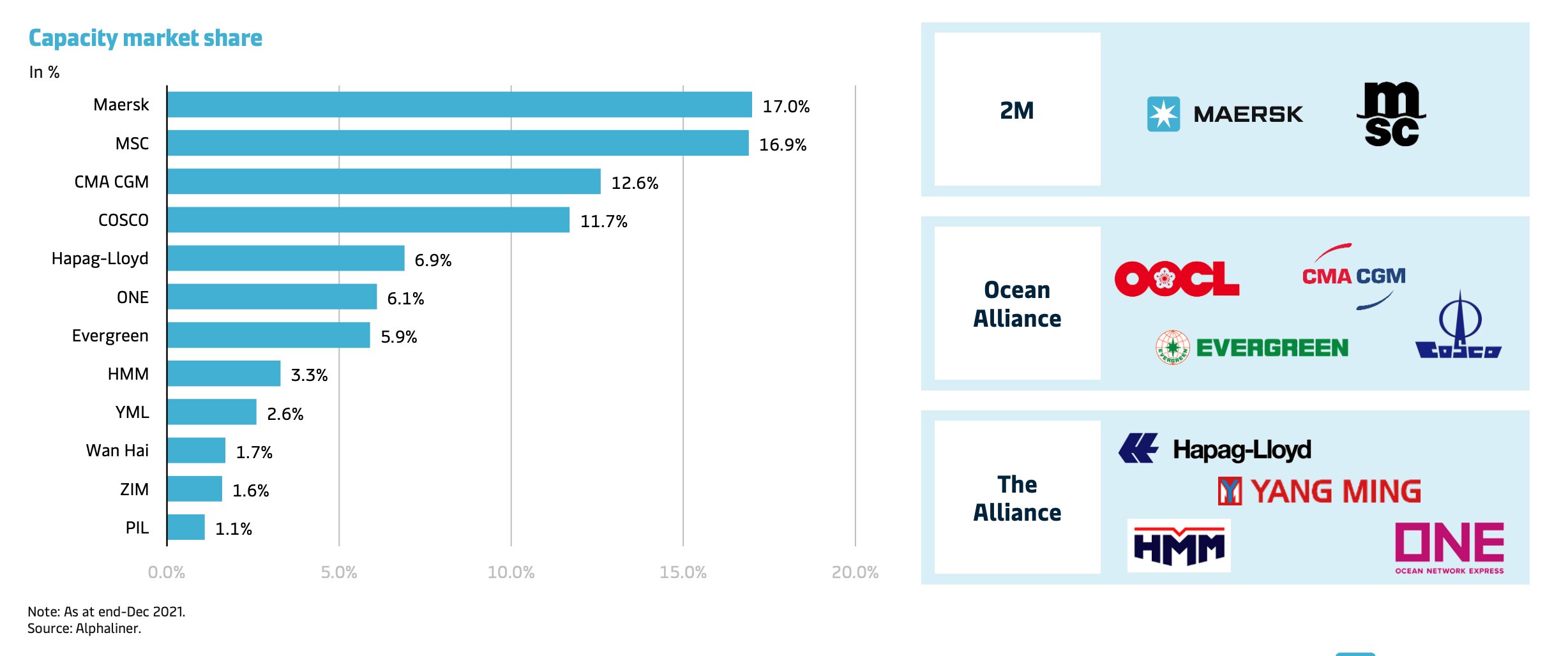 Source: Maersk Annual Report 2021 p38
According to Alphaliner as of January 6, 2022, MSC took the top position. Between the end of 2020 and the end of 2021, Maersk's market share remained steady at 17%, while MSC's share increased from 15.9% to 16.9%.
As of 2023, the current ranking shows MSC in the top position.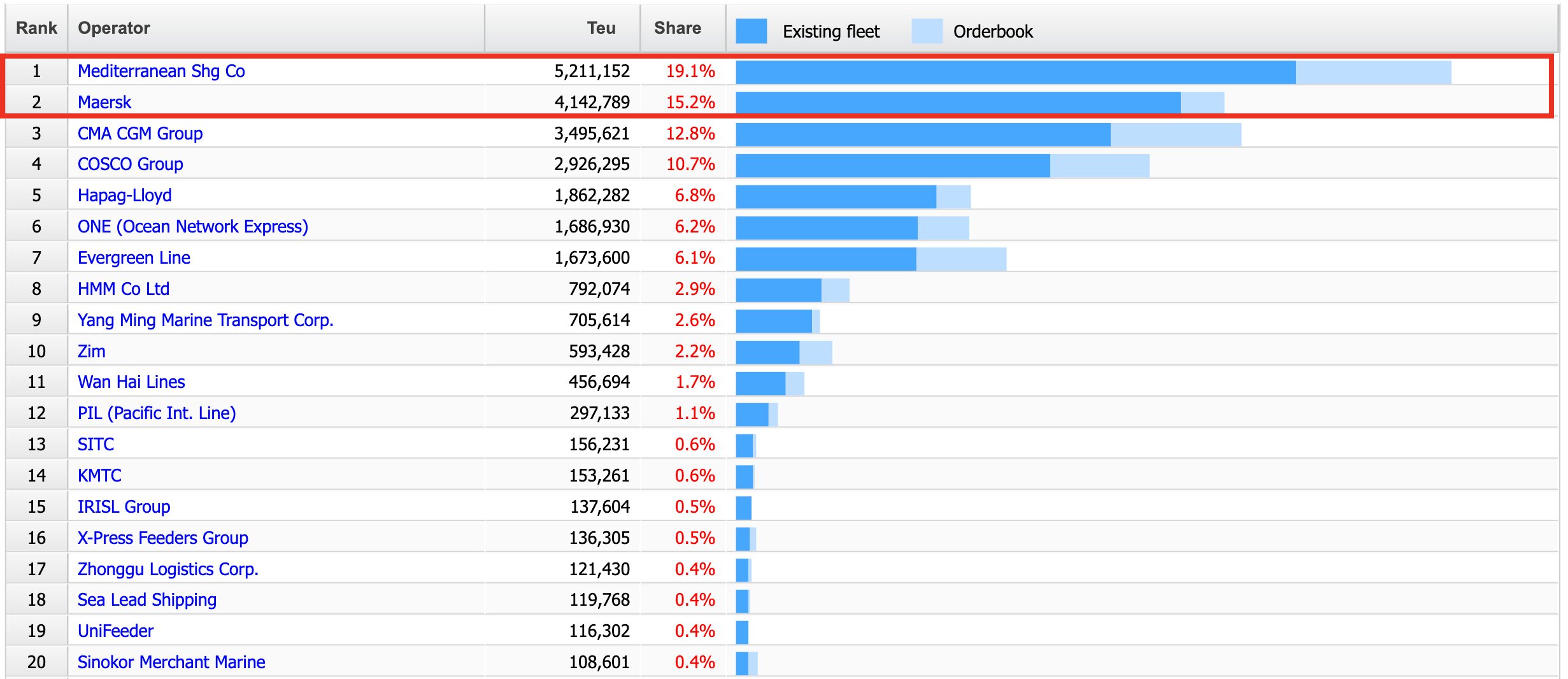 Source: Alphaliner TOP100 02 Aug 2023
There were differences in the movements of the two companies in 2021.
While MSC actively purchased second-hand vessels, Maersk took a different strategic direction. In August 2021, Maersk acquired EC2 companies, and by the end of the year, they announced the acquisition of LF Logistics, a major logistics company in Hong Kong (completed in September 2022). This move allowed Maersk to strengthen its comprehensive logistics capabilities in the APAC region, including truck transportation and warehouse storage, and enabled it to adapt to the E-commerce industry and omnichannel approaches.
Maersk's actions seem to indicate a shift towards positioning itself as a "comprehensive logistics company" rather than solely focusing on being a container shipping company.
Maersk as a Global Integrated Logistics Company
In 2016, Maersk made a strategic decision to transform into a global integrated logistics company, focusing on transport and logistics services.
To implement this strategy, Maersk sold its tanker division, which was involved in the petroleum business and crude oil transportation, and separated the division that owned drilling equipment into a separate company. This showed a clear choice and concentration in its business operations.
Furthermore, in 2018, Maersk established a joint venture with IBM to utilize blockchain technology and promote more efficient and seamless trade. They launched the maritime digital platform "TradeLens." By 2020, CMA CGM (France) and MSC (Switzerland) also joined, with a total of over 175 companies participating. The acceleration of digital transformation in the paper-based shipping industry was highly anticipated. However, unfortunately, in 2022, it was announced that TradeLens did not reach commercial viability, leading Maersk to shut it down.
Despite discontinuing TradeLens, Maersk continues to embrace the challenge of digital transformation and seeks to facilitate international trade through other solutions.
In 2023, Maersk announced the integration of other acquired brands, such as Hamburg Süd, under the Maersk brand. This indicates Maersk's emphasis on a branding strategy as a global integrated logistics company.
Image Source:
Maersk Official Site|news
Maersk Container Tracking and Tracing Method
Maersk can be searched on the site by B/L number or Container number.
For Maersk cargo tracking click here
MonCargo tracking service is recommended for container tracking.
You can check the tracking of each shipping company on their respective websites. If you are dealing with only one shipping company, it might be best to check the tracking on their company page.
However, even if you are dealing with just one shipping company, constantly checking for any changes in the ETA schedule of containers can be time-consuming. Moreover, you may need to inquire with other departments if there are any changes to the ETA schedule. Managing multiple shipping companies can further complicate matters.
With MonCargo, you will receive email notifications in case of any schedule changes, ensuring that you don't miss any updates. Additionally, if multiple team members are tracking the same container, MonCargo allows you to share container information within the team, eliminating the need for email or chat exchanges and streamlining information sharing.
Furthermore, by utilizing MonCargo's API, you can easily integrate it into your own system, connecting multiple shipping companies through one API. This leads to reduced development efforts and increased efficiency compared to developing separate APIs for each shipping company.
Why not give MonCargo a try for container tracking? You can enjoy a 30-day free trial.
Tracking containers just got easier.
Sign up for MonCargo for free for 30 days from here
Reference (viewed on 1st Aug 2023)
Daily Cargo 1st Dec 2022
Maersk Annual Report 2003
Maersk Annual Report 2020 investor presentation
Maersk Annual Report 2021 investor presentation
Maersk Official Site|Our history
REUTERS 22nd Dec 2021
REUTERS 6th Aug 2021
Svitzer Official Site
THE JAPAN MARITIME DAILY 15th Dec 1999
THE JAPAN MARITIME DAILY 7th Jan 2022