ONE Container Tracking
When you register ONE's booking number, B/L number, and container number, you can track containers with MonCargo. By using MonCargo's container tracking service, you will receive email notifications for changes in ETA, vessel information, and transshipment port details, making it efficient for management.
▼ MonCargo 30-Day Free Trial
Try ONE's container tracking by MonCargo from here.
▼ONE Standard Carrier Alpha Code (SCAC) Code
ONEY
About ONE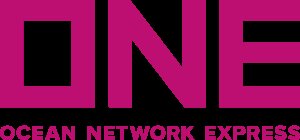 Ocean Network Express Holdings, Ltd., commonly known as ONE, is a Japanese shipping company based in Singapore. It was established in July 2017 by the integration of the container shipping divisions of three major Japanese shipping companies: Nippon Yusen Kaisha (NYK Line), Mitsui O.S.K. Lines (MOL), and Kawasaki Kisen Kaisha (K Line). ONE operates 215 vessels on 172 routes and has business operations in over 100 countries worldwide (based on 2021 figures). Additionally, ONE's containers are distinctive for their magenta (pink) color, symbolizing cherry blossoms.
▼ Ownership Distribution of the Three Japanese Shipping Companies
Kawasaki Kisen Kaisha, Ltd. (K Line): 31%
Mitsui O.S.K. Lines, Ltd. (MOL): 31%
Nippon Yusen Kaisha, Ltd. (NYK Line): 38%
As of October 2023, according to the Alphaliner container shipping company rankings, ONE ranks sixth in the world with 1,695,567 TEUs, surpassing Evergreen Shipping Line.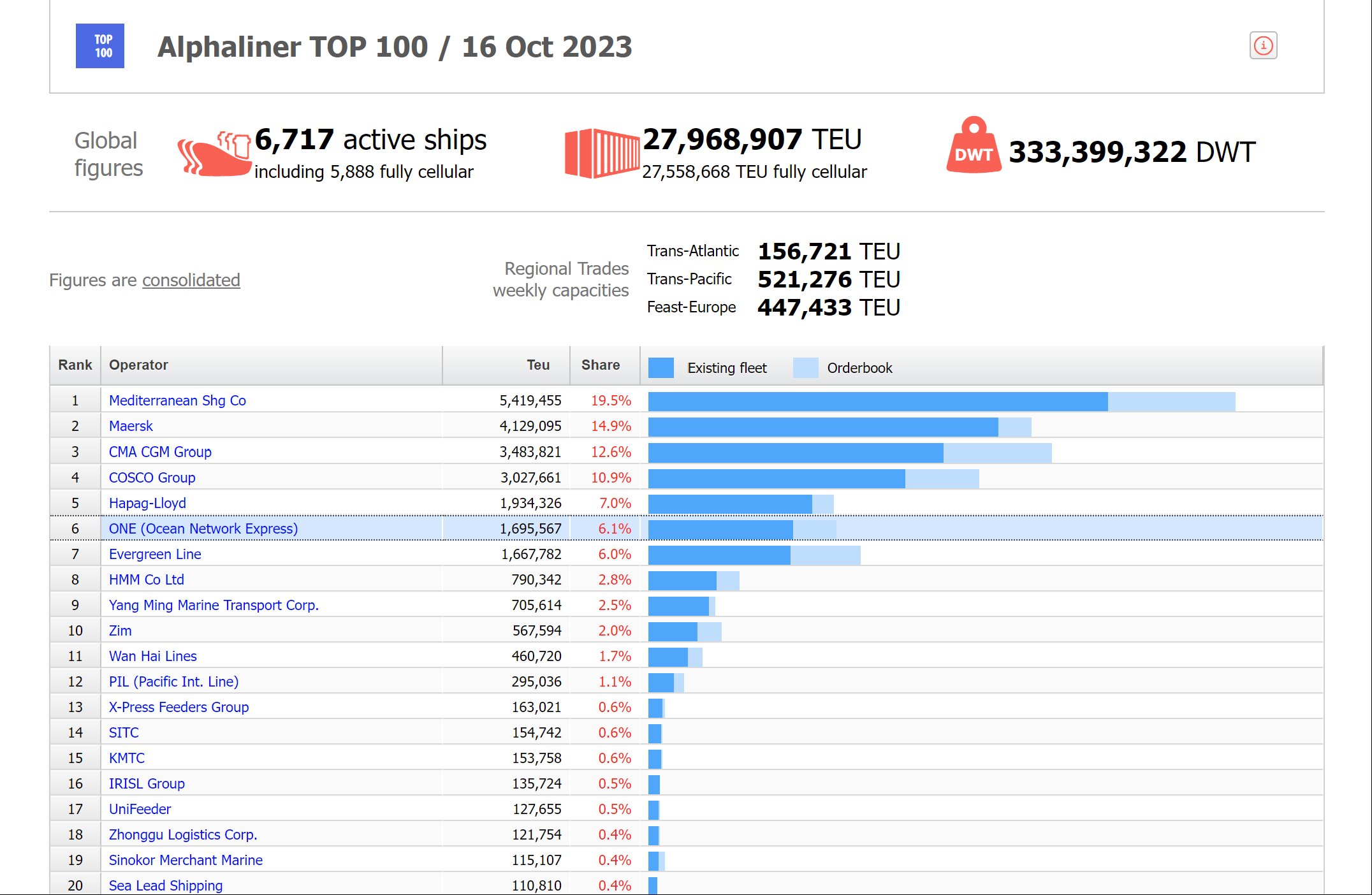 Source: Alphaliner Research
▼ For more detailed information about ONE, click here.
Source (As of October 16, 2023):
Related Blog: History of ONE: Reasons for the Integration of Japan's Top Three Shipping Companies' Container Shipping Business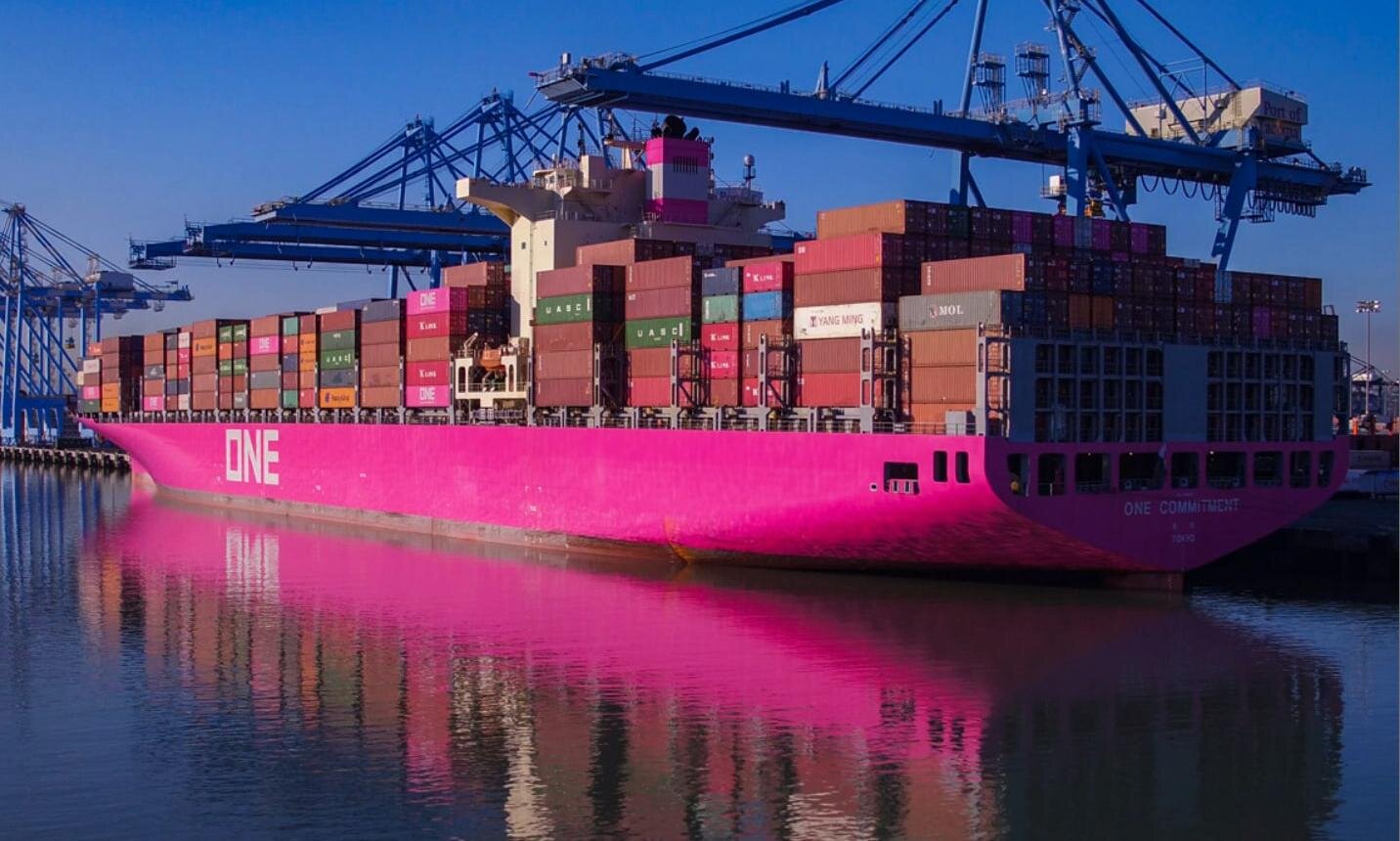 image:
ONE Official Site
MonCargo Tracking Service Recommended for Container Tracking
You can check the tracking of individual shipping companies on their respective websites. If you are dealing with only one shipping company, it may be convenient to check on their website.
However, constantly checking for changes in container schedules, even for a single shipping company, can be time-consuming. Moreover, you may have to inquire with other departments if there have been changes in ETA schedules. If you are using multiple shipping companies, the management can become even more complex.
With MonCargo, you will receive email notifications in case of schedule changes, ensuring that you don't miss any updates. Additionally, if there are others within your organization tracking the same container, you can share container information within your team, saving time on email or chat exchanges and facilitating information sharing.
Why not start container tracking with MonCargo? You can try it free for 30 days.
Make container tracking easier with MonCargo.
Sign up for MonCargo here.