What is Evergreen (Chang Yung-Fa, Evergreen Marine Corporation)?
Evergreen Marine Corporation, commonly known as Evergreen, is a maritime logistics company founded in Taiwan in 1968 by Chang Yung-Fa.
History of Evergreen
In 1968, Evergreen was established by Chang Yung-Fa. Based on his business philosophy of "creating profits, caring for employees, and giving back to the society," Evergreen grew to become one of the world's top maritime logistics companies around two decades later.
To understand the remarkable growth of Evergreen, let's first examine the Taiwanese economy from the 1960s, the period when Evergreen was founded.
Post-War Taiwanese Economy
Taiwan, which has a history of flourishing trade as a hub in the Asian trading network since the 16th to 17th centuries, has experienced significant economic growth, particularly in industries like semiconductors. However, how was Taiwan's economic situation when Evergreen was established?
The 1960s were during the height of the Cold War. The Korean War took place from 1950 to 1953, leading the United States to increasingly value Taiwan as a bulwark against communist expansion in East Asia. Economic aid started in 1951, followed by military support in 1954. Economic aid amounted to $100 million per year and continued from 1951 to 1965. During this period, Taiwan implemented import tariffs on imported goods, fostering domestic industrialization. In the 1960s, Taiwan saw the growth of small and medium-sized enterprises and succeeded in its export-oriented industrialization strategy.
The post-war Taiwanese economy from the 1940s to the 1980s can be divided into distinct periods, as explained below:
1945-1952: Period of Stabilization Amid Chaos
1953-1960: Import Substitution Industrialization
1961-1972: Export-Oriented Industrialization
1973-1980: Economic Structural Transformation to Address Labor Shortages
(Quoted from "Chapter 10: Taiwan" by the Institute of Finance and Comprehensive Policy)
During the 1960s, a period marked by increased demand for maritime transportation and export-oriented growth, Evergreen began its services. Starting with a single used ship, it progressed to constructing container ships by 1975. Despite the economic turmoil caused by the oil shocks in the 1970s, Evergreen launched full-container services, expanding its growth along with increased trade between the United States and Asia. In the years from 1960 to 1980, the Chiang Kai-shek and Chiang Ching-kuo (son) administrations emphasized economic growth, partly to divert attention from political criticism.
In the same year Evergreen introduced container ships (1975), Chiang Kai-shek passed away, leading to a surge in pro-democracy movements. In 1987, the martial law that had been in place since 1949 was lifted, and in 1988, Lee Teng-hui became Taiwan's first native-born president, advancing democratization and modernization.
From the 1980s onward, the Taiwanese economy shifted towards high-tech industries, processing exports, and information technology. This strategy proved successful, and Taiwan, along with South Korea, Hong Kong, and Singapore, became part of the "NIEs" (Newly Industrializing Economies).
Interestingly, during this period, those driving economic policies in Taiwan were often engineers and physicists rather than conventional economists. According to historical records, from 1949 to 1985, among 14 economic ministers, 10 had backgrounds in engineering, not economics. These technocrats played a central role in Taiwan's rapid industrialization, especially in fields like computers, electronics, and semiconductor-based economic development.
Lastly, to provide a clear comparison with Japan, here's a graphical representation of Taiwan's real GDP and per capita GDP from 1980 to the present:
[Graphs showing Real GDP (Annual percent change) comparison between Taiwan and Japan]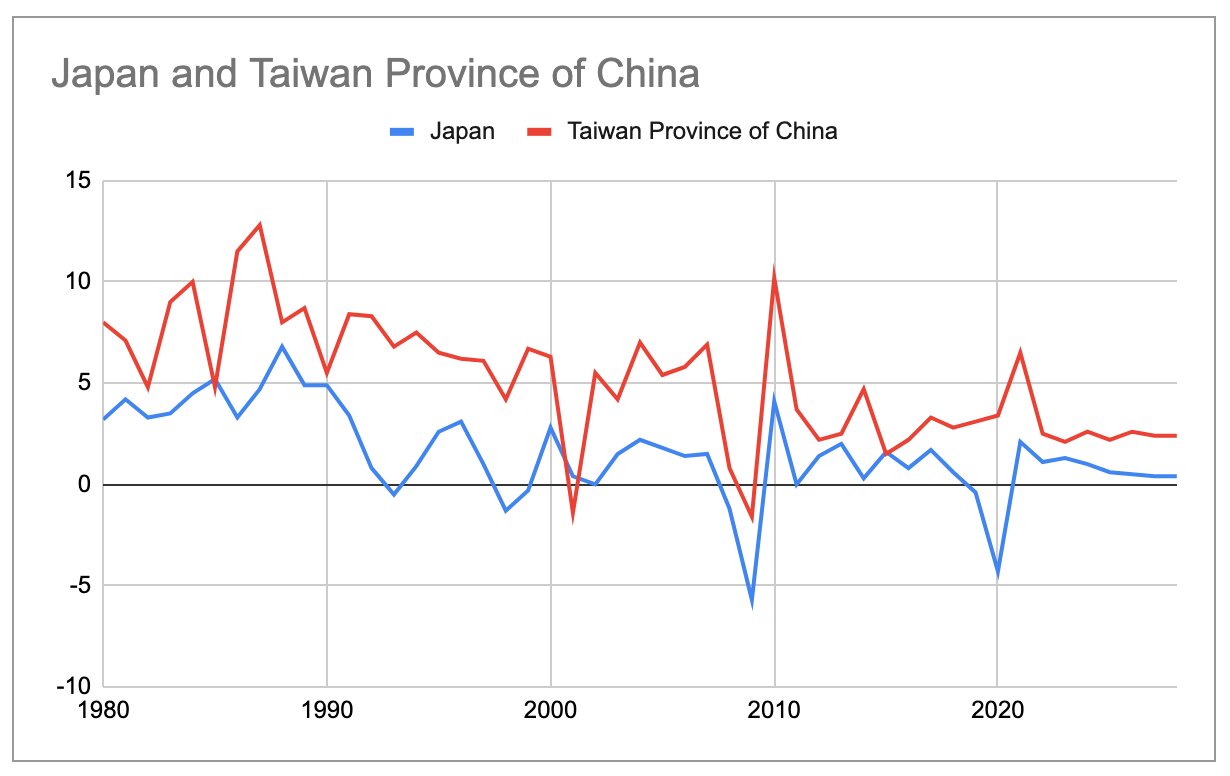 [Graphs showing Per Capita GDP (Billions of U.S. dollars) comparison between Taiwan and Japan]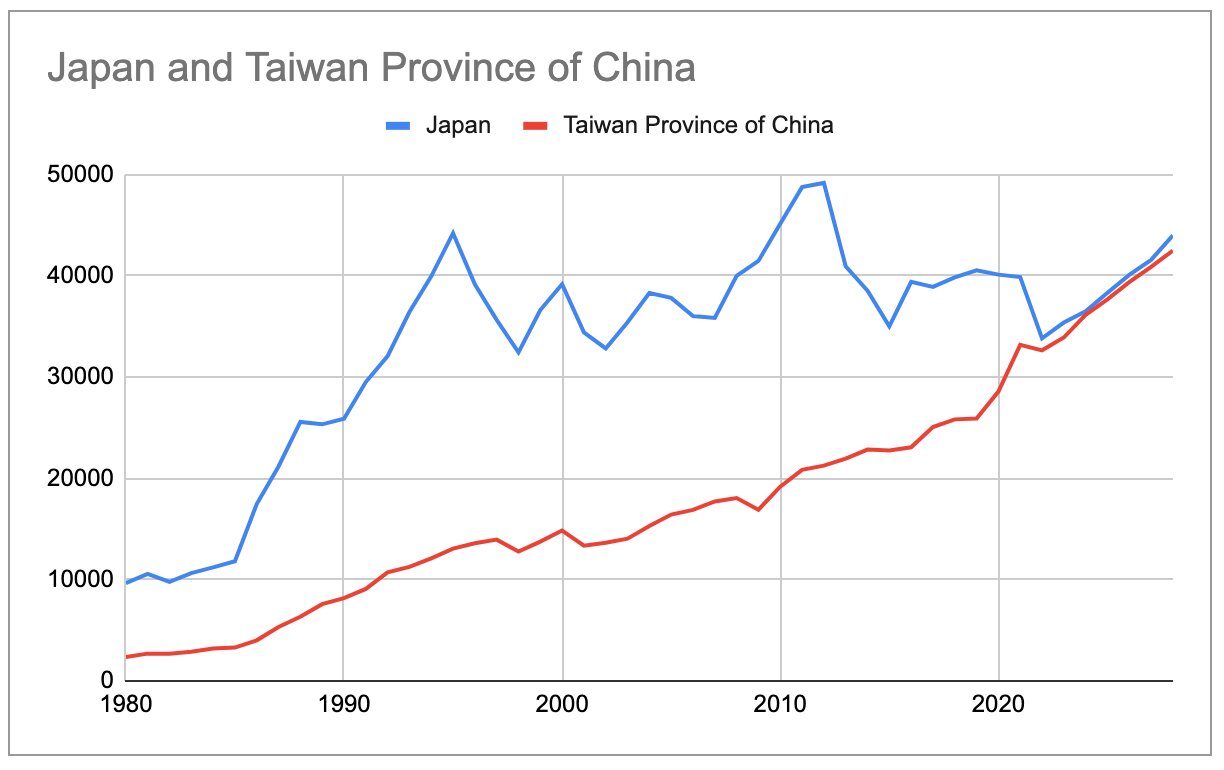 Looking at the per capita GDP, it's evident that Taiwan's economy has been consistently growing since 1980. We certainly cannot afford to overlook Taiwan's economic trends in the future!
About Evergreen
Since the commencement of full-container service to North America in 1975, Evergreen has continually expanded its global routes and services. This expansion included the initiation of full-container services to Europe, and in 1984, Evergreen achieved a significant milestone by establishing the world's first-ever circumnavigation route for container ships, connecting Asia, Europe, and America via both eastbound and westbound routes. Subsequently, Evergreen's fleet grew to comprise 50 vessels, including the world's largest container ship with a capacity of 100,000 TEUs (Twenty-Foot Equivalent Units). Building on its excellent transportation capabilities and safety standards, Evergreen also founded Evergreen Airlines in 1989, further diversifying its operations.
While many shipping companies achieved growth through mergers with others to benefit from economies of scale, Evergreen pursued a unique business strategy. In addition to venturing into the airline industry, the company successfully diversified into areas such as hotels and real estate. In the realm of maritime container shipping, Evergreen also embraced vertical integration, engaging in terminal operations and logistics to enhance operational efficiency.
Entering the 2000s, Evergreen emerged as an early advocate for environmental concerns and sustainability. The company introduced environmentally conscious aircraft and vessels. In 2014, Evergreen joined the CKYHE Alliance (with Kawasaki Kisen and COSCO etc), and in 2016, it announced the formation of the OCEAN Alliance (with CMA CGM, COSCO, and Evergreen), further bolstering its Asian, European, and American routes. The grounding of the vessel "Ever Given" in the Suez Canal in 2021 created a significant impact on global logistics and became a notable incident associated with Evergreen.
Presently, Evergreen holds the seventh position in Alphaliner's ranking of operational capacity for shipping vessels.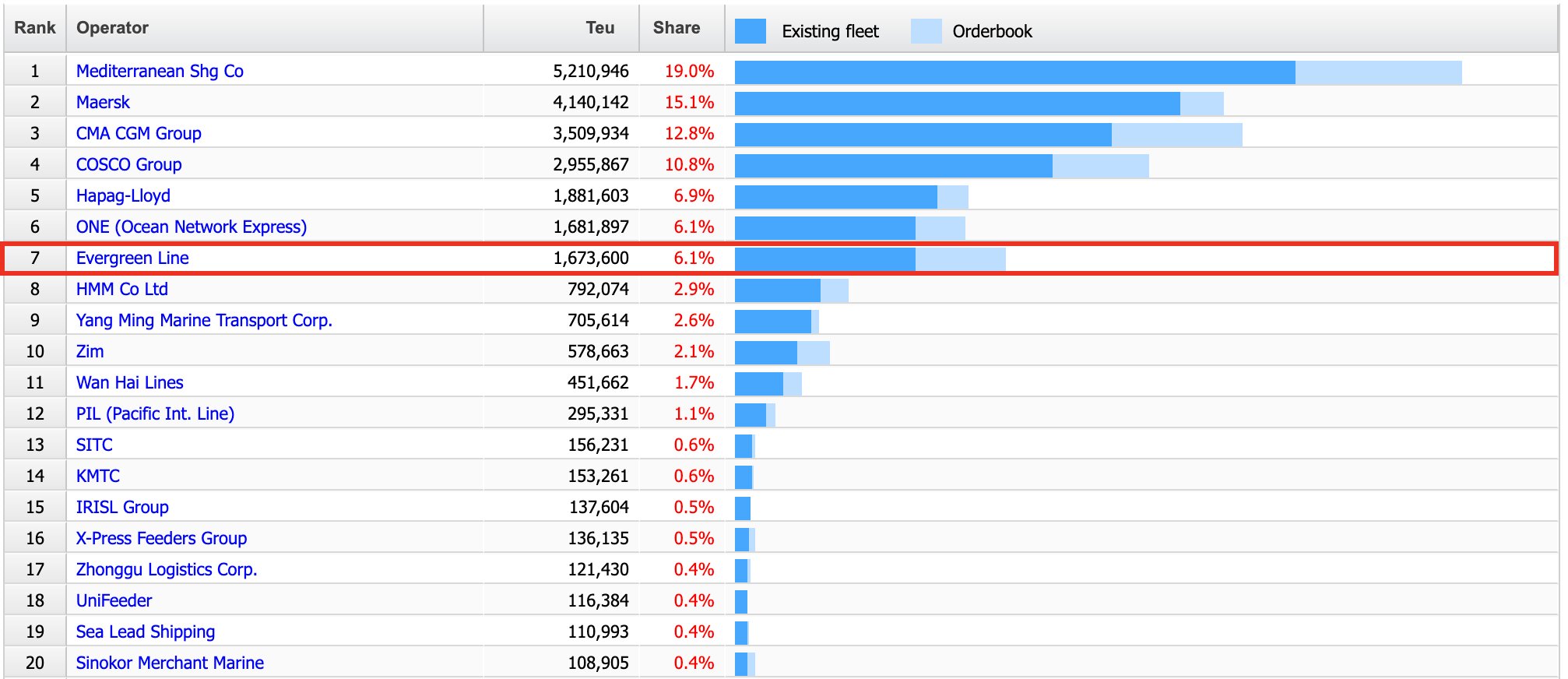 About Chang Yung-Fa
We have explored the history of post-war Taiwan's democratization, modernization, economic development, and Evergreen. Now, let's take a brief look at Chang Yung-Fa, the visionary who single-handedly built Evergreen into a global top-tier company.
Born in 1927 during Japan's colonial rule over Taiwan, Chang Yung-Fa passed away in 2016 at the age of 88.
From his early years, Chang Yung-Fa worked for Japanese shipping companies while attending business school at night to become a navigator. Over the course of about 15 years, he gained experience as a crew member, first officer, and captain in multiple shipping companies. With leadership and managerial skills, he led Evergreen's growth from a single second-hand ship. His expansion efforts were supported by funds from the Japanese trading company Marubeni and assistance from All Nippon Airways during the company's entry into the aviation industry. When entering the aviation business, he even bought and studied related books in Japan. Beyond his foresight, business acumen, and exceptional leadership, Chang Yung-Fa was known for his unrelenting dedication and hard work.
Moreover, following the devastating East Japan Earthquake, Chang Yung-Fa donated 1 billion yen in his personal capacity for relief efforts. Evergreen Airlines had been operating regular flights to Sendai Airport, and he was moved to tears upon seeing news about the tsunami and disaster on television. Not only as an individual, but also as a company, he extended his support by instructing group companies in shipping and aviation to transport relief supplies, including blankets, to Japan. Evergreen Airlines' aircraft were utilized to transport aid from various governments and international relief organizations to Japan at no cost (quoted from Sankei Shimbun, March 11, 2017 article).
In 1985, Chang Yung-Fa established the Chang Yung-Fa Foundation based on his belief in "accumulating merits and performing virtuous deeds." The foundation offers scholarships and support. Using this foundation, the Evergreen Maritime Museum CHANG YUNG-FA Foundation was also established in Taipei. When you have the chance to visit, I'll provide you with a visit report!

Image source: EVERGREEN LINE Official Site
Evergreen Container Tracking and Tracing Method
Maersk can be searched on the site by Booking number, B/L number or Container number.
For Maersk cargo tracking click here
MonCargo tracking service is recommended for container tracking.
You can check the tracking of each shipping company on their respective websites. If you are dealing with only one shipping company, it might be best to check the tracking on their company page.
However, even if you are dealing with just one shipping company, constantly checking for any changes in the ETA schedule of containers can be time-consuming. Moreover, you may need to inquire with other departments if there are any changes to the ETA schedule. Managing multiple shipping companies can further complicate matters.
With MonCargo, you will receive email notifications in case of any schedule changes, ensuring that you don't miss any updates. Additionally, if multiple team members are tracking the same container, MonCargo allows you to share container information within the team, eliminating the need for email or chat exchanges and streamlining information sharing.
Furthermore, by utilizing MonCargo's API, you can easily integrate it into your own system, connecting multiple shipping companies through one API. This leads to reduced development efforts and increased efficiency compared to developing separate APIs for each shipping company.
Why not give MonCargo a try for container tracking? You can enjoy a 30-day free trial.
Tracking containers just got easier.
Sign up for MonCargo for free for 30 days from here
Reference (viewed on 14-15 Aug 2023)
CHEN, Cheng-Ta, "The Development of Taiwan's Shipbuilding Industry after World War II : A Study in Industrial Policy", Kyoto University Keizai-ronsō : The Economic Review, 185(3),2011, pp.43-62.
EVERGREEN Official Site
EVA AIR Official Site
Hiromu Onose, "Influences of Entrepreneurial Experiences : A Case Study of Chang Yung-Fa the Founder of the Evergreen Group", KYUSHU SANGYO UNIVERSITY, KEIEIGAKU RONSHU (BUSINESS REVIEW), 25(1),2014, pp.31-48.
International Monetary Fund Taiwan Province of China
International Monetary Fund JAPAN
Kaiji Press ONLINE 2011/3/24
POLICY RESEARCH INSTITUTE, Ministry Of Finance, JAPAN vol.10, :Taiwan"
THE SANKEI NEWS 2017/3/11
Wedge Online 2016/8/25
Word of history, "Taiwan"
Word of history, "NIEs"