Thank you for using MonCargo.
We are pleased to announce the release of our new CSV upload feature, which allows you to register multiple containers in one go.
With the CSV file upload feature, you can now easily register a list of booking numbers, Bill of Lading (B/L) numbers, or container numbers all at once on MonCargo. This addition will significantly reduce the time spent on container tracking. Rather than manually inputting each container one by one, you can import them in bulk via CSV, reducing the chances of human errors. MonCargo is committed to making container tracking even more convenient, and we will continue to make improvements in the future.
Multiple Registration Feature via CSV Upload
By uploading a CSV file, you can register multiple containers simultaneously. The CSV file should include three essential fields: shipping line, tracking type (Booking number, B/L number, Container number), and tracking numbers.
▼ MonCargo Dashboard > + Add Container > Multiple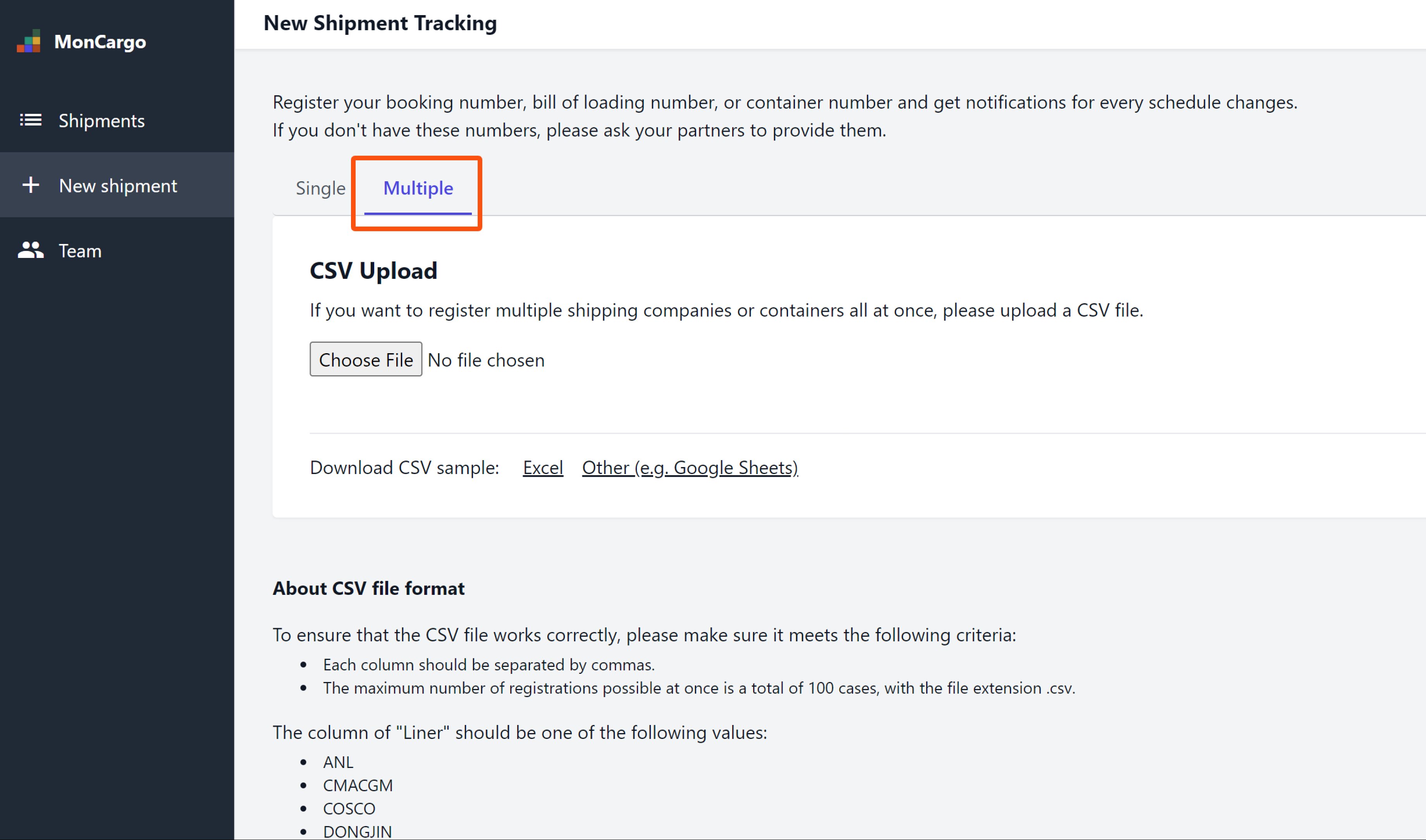 *Please refer to the dashboard for the CSV file format details.
Background of Development
Previously, MonCargo required customers to manually input booking numbers, Bill of Lading (B/L) numbers, or container numbers one by one for container tracking. This often involved copying information from tools, Excel files, or other sources, leading to manual work. We received feedback from customers who manage multiple containers, expressing their desire for bulk registration or the ability to register containers from a file.
With the CSV upload feature, you can now register up to 100 containers in bulk at once. This capability significantly reduces the time required for container tracking registration and minimizes the potential for human errors.
With this release, container tracking on MonCargo has become even more user-friendly.
Release Date
18th Oct, 2023
Contact Us
Please click here to request information or make an inquiry.
---
By MonCargo, we are actively taking feedback from our users to improve our service. If you have any concerns or requests regarding functions or screen design, please feel free to let us know.
Thank you for your continued support of MonCargo.
MonCargo